Rector of Vytautas Magnus University Visits TUFS
April 20, 2015
On Monday, March 30th, Zigmas Lydeka, the rector of Vytautas Magnus University (VMU), Aurelijus Zykas, the head of the Vytautas Magnus University Centre for Asian Studies (ASC), and Tadas Martusevicius, the director of Business Internship Center, visited Tokyo University of Foreign Studies.
They had a meeting with president Hirotaka Tateishi, vice president (International Strategies) Koji Miyazaki, executive director Kayoko Hayashi, professor Kyoko Numano and assistant professor Eiko Sakurai (Lithuanian language).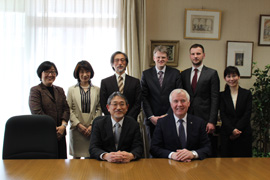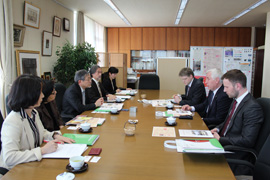 Only four institutes in Asia offer Lithuanian language classes. TUFS is the first school which started Lithuanian classes.
In the meeting, they talked about how to deepen ties between the universities with hopes of achieving an academic partnership. They also talked about the roles of the two institutes as bridges of between Japan and Lithuania.