TUFS London Office
TUFS London Office was established in March 2004 as a TUFS liaison office in Russell Square Campus of the School of Oriental and African Studies (SOAS), University of London, U.K., with the general courtesy of SOAS.
SOAS and TUFS have been promoting cooperation in research and education based on the bilateral academic agreement, and Consortium for Asian and African Studies (CAAS) signed in March 2007. We hope you will take advantage of this office for your academic and related activities.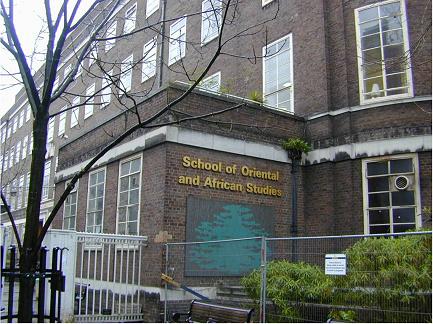 Location: Russell Square campus, the School of Oriental and African Studies (SOAS), University of London, UK
Address:
Room349, Main Building
School of Oriental and African Studies, University of London
Thornhaugh Street, Russell Square
London WC1H OXG
*On the third floor, across the elevator adjacent to the Library
Telephone: +44-(0)20-7898-4379 (dedicated line for TUFS London Office)
Open Hours: Monday - Friday 8.15 - 21.00, Saturday 9:00 - 17:00. Closed on Sundays, UK holidays, and other days indicated in the SOAS calendar.
Eligible persons: TUFS faculty, staff and postgraduate students, TUFS Global Community Associates, and others who are approved by the Office Chief, Tokyo University of Foreign Studies (TUFS) for use
Fee: No charge
Application: Contact Office for International Affairs, TUFS by e-mail, telephone one month prior to your planned use.
Note
1) Please note that users, especially those who use the office for mid to long term, might be asked to perform simple TUFS related liaison tasks such as PR.
2) The following equipments are available for your use:Desk, chair, lockable drawers, laptop computer, printer, phone.
3) No parking is available.
Directions to TUFS London Office
Heathrow Airport is in Zone 6, and SOAS is in Zone 1.
From London Heathrow Airport
1) By Tube/Underground: Take Piccadilly Line to Russell Square; 60 minutes
http://www.tfl.gov.uk/gettingaround/1106.aspx
2) Take Heathrow Express to Paddington Station; 15 minutes
http://www.heathrowexpress.com
At Paddington Station, transfer to Tube (Circle Line or Hammersmith&City Line) to Euston Square Station; 15 minutes
Nearest Stations
Russell Square (Piccadilly Line) 3-minute walk
Goodge Street (Nothern Line) 7-minute walk
Warren Street (Nothern Line / Victoria Line) 10-minute walk
Euston Square (Circle Line / Hammersmith&City Line) 7-minute walk
Euston (Nothern Line / Victoria Line) 7-minute walk
Application and Inquiries
Download the application form, fill it and send it through fax of e-mail to OFIAS.
Application for using TUFS London Office (word 26kb)

Office for International Affairs
Tokyo University of Foreign Studies
3-11-1 Asahi-cho, Fuchu-shi, Tokyo 183-8534 JAPAN
Tel: +81-(0)42-330-5594
E-mail: intl-service[at]tufs.ac.jp