On May 4, 2019, Mr. Kazutaka Nakano, one of the supporters of Shukulu and Rodrigue, invited them and Dr. Godfrey Hampwaye to Kurayami Festival, the Japanese traditional festival at Fuchu city. Please visit here for more details about their experience at the Festival.
Shukulu enjoyed her attendance at Japanese traditional event. She also enjoyed talking with Mr. Nakano with Japanese she has learnt so far. Here is her essay about his experience.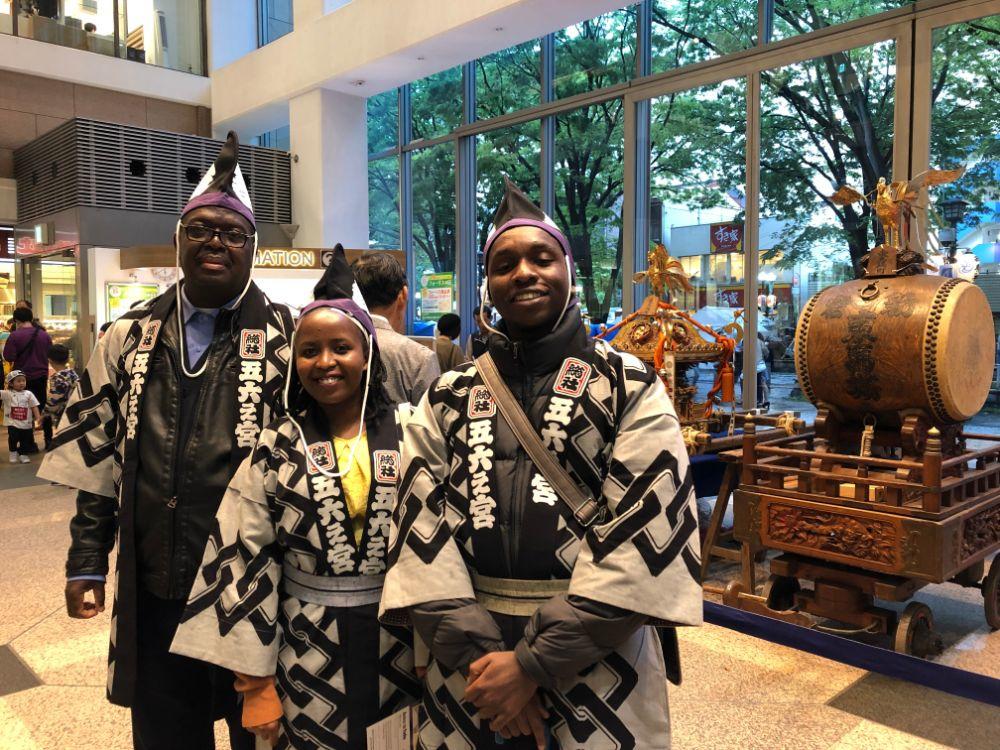 Kurayami Festival took place May 3rd to 5th, 2019 at Tokyo, Fuchu City. I attended the festival on May 4 on the second day of the festival. I was with Icishatse Elie Rodrigue from Burundi and Godfrey Hampwaye from Zambia. Also, I was together with three Japanese, Midorikawa-san from African Studies Center - TUFS and Nakano-san together with his sister. Before we went to the shrine, were given the costumes for the festival by Nakano-san for free and it was a gift too.
At first, we went to the shrine for sightseeing and see how people pray. On the road goes to shrine, there were a lot of street shops, where people sold different things especially food staff and many people were buying. It was so crowded.
After we came from the shrine, we waited around two hours for the main event to take place, which was kind of parade. There were different groups which were doing different drum performances. The main purpose of drum performance was to purify the roads where the portable shrines are carried. The different groups were having different drum melody, dressing code in term of color and dance. It was really nice to see and hear the different melodies from different groups.
Also apart from Japanese people, there were other foreigners who come to see the festival and there was someone from city hall in charge of the foreign tourists who was explaining about the festival in English. I like how they provided the Brochures in English to help the foreigners to understand about the Kurayami Festival. The most thing I like is the idea of taking gods from the shrine for one night rest. It was new to me but at the same time surprising as a foreigner.
In general, the Kurayami Festival was a really nice experience for me. In the essence of learning about Japanese traditional culture. Again, I like how the young Japanese participated in the festival, this showed me that even if this Kurayami Festival is an old traditional practice of Japanese but still in this modern days is still very important to Japanese people regardless the age. I really, I appreciate how the old Japanese people integrated the Japenese Youth in performing the different rituals in this festival and shows that there is long sustainability for Kurayami Festival. This is good to keep for the country's history.
I would like to finish this report by thanking everyone who contributed something so that I was able to attend the Kurayami Festival. Especially thanks to Nakano-san for his invitation and support. It was a great moment for me in term of learning but at the same time having fun.