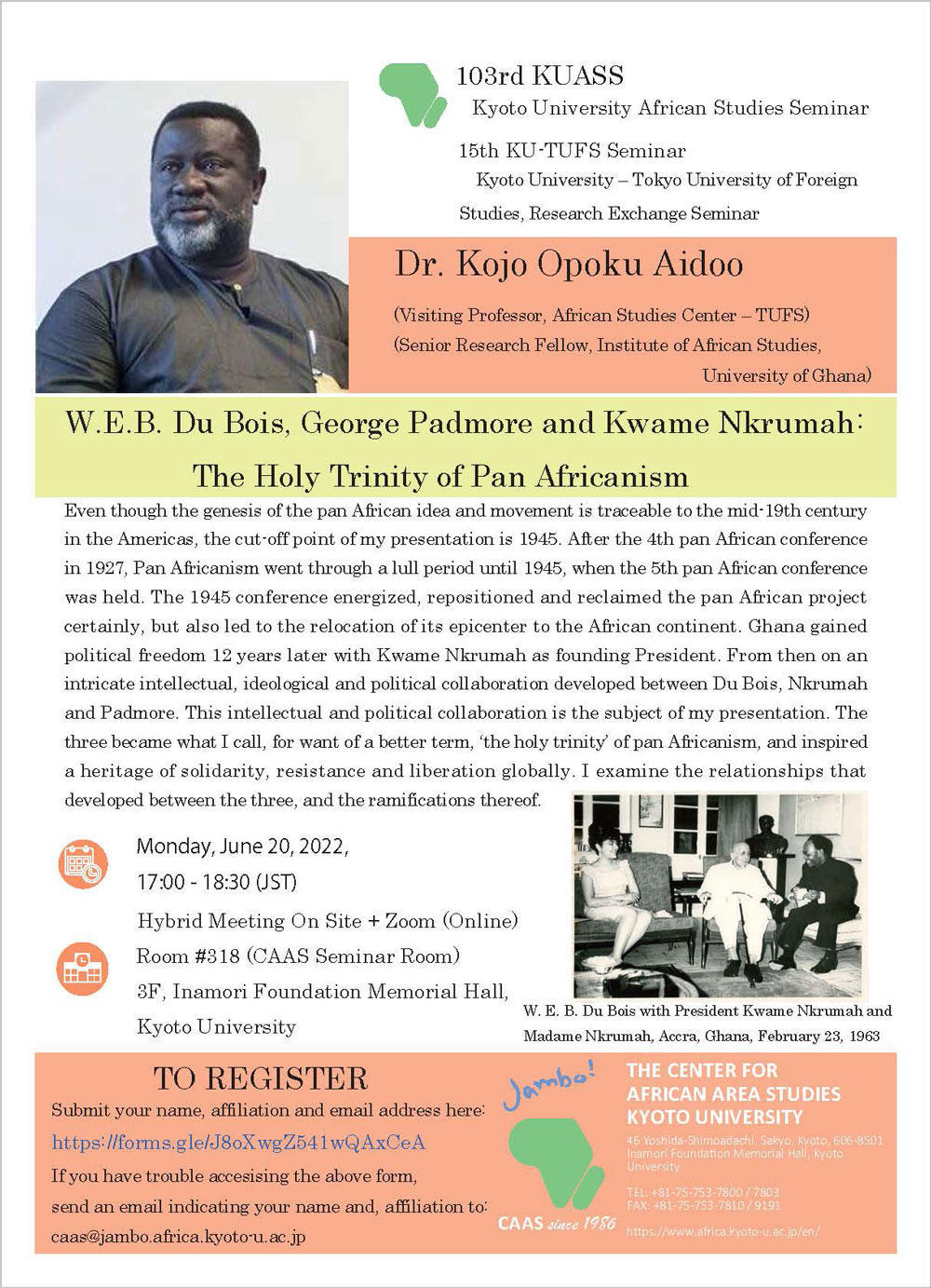 Prof. Kojo Opoku Aidoo, our visiting professor, will visit Kyoto University and give a public lecture there. The seminar is jointly organized by the Center for African Area Studies (CAAS), Kyoto University and African Studies Center - TUFS, and this will be the 15th one. Please also visit here for more details.
◆Speaker: Prof. Kojo Opoku Aidoo (Senior Research Fellow, Institute of African Studies, University of Ghana / Visiting Professor, Tokyo University of Foreign Studies)
◆Title:
W.E.B. Du Bois, George Padmore and Kwame Nkrumah: The Holy Trinity of Pan Africanism
◆Abstract: Even though the genesis of the pan African idea and movement is traceable to the mid-19th century in the Americas, the cut-off point of my presentation is 1945. After the 4th pan African conference in 1927, Pan Africanism went through a lull period until 1945, when the 5th pan African conference was held. The 1945 conference energized, repositioned and reclaimed the pan African project certainly, but also led to the relocation of its epicenter to the African continent. Ghana gained political freedom 12 years later with Kwame Nkrumah as founding President. From then on an intricate intellectual, ideological and political collaboration developed between Du Bois, Nkrumah and Padmore. This intellectual and political collaboration is the subject of my presentation. The three became what I call, for want of a better term, 'the holy trinity' of pan Africanism, and inspired a heritage of solidarity, resistance and liberation globally. I examine the relationships that developed between the three, and the ramifications thereof.
◆Date & Time: Monday, June 20, 2022 5:00 - 6:30 pm (JST)
◆Venue: Onsite (Room #318 <CAAS Seminar Room>, 3F Inamori Foundation Memorial Hall, Kyoto University) & Online (Zoom)
◆Language: English
◆Admission: Free
◆Pre-registration is required. Please visit here for registration. If you have trouble accessing the link, send an email indicating your name and affiliation to caas

jambo.africa.kyoto-u.ac.jp.
◆Jointly organized by the Center for African Area Studies, Kyoto University and African Studies Center - TUFS