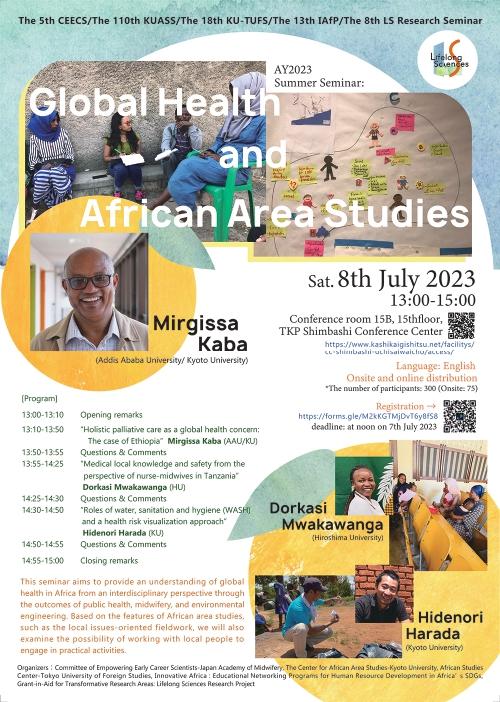 5th CEECS/ The 110 KUAS/The 18th KUAS-TUFS/The 13th IAfP/ The 8th LS Research Seminar AY2023 Summer Seminar: Global Health and African Area Studies
This seminar aims to provide an understanding of global health in Africa from an interdisciplinary perspective through the outcomes of public health, midwifery, and environmental engineering. Based on the features of African area studies, such as the local issues-oriented fieldwork, we will also examine the possibility of working with local people to engage in practical activities.
◆Speaker:Mirgissa Kaba (AAU/KU)
Dorkasi MWAKaWanda (HU)
Hidenori Harada (KU)
◆Date: Saturday, July 8, 2023, 1:00 p.m. - 3:00 p.m.(JST)
◆Number of participants: 300 (Number of participants at the venue: 75)
◆Venue: Conference Room 15B, TKP Shinbashi Conference Center, 15th floor
10-16F, Sachi Building, 1-3-1 Uchisaiwai-cho, Chiyoda-ku, Tokyo
◆Format: High-flex (face-to-face + online) 
◆Target audience: Young researchers, faculty, students, and others interested in international health and African studies
◆Language: English (interpreters will be provided)
◆Fee: free
[Program]
13:00-13:10 Opening remarks
13:10-13:50 "Holistic palliative care as a global health concern: The case of Ethiopia" Mirgissa Kaba (AAU/KU)
13:50-13:55 Ouestions & Comments
13:55-14:25 "Medical local knowledge and safety from the perspective of nurse-midwives in Tanzania' Dorkasi MWAKaWanda (HU)
14:25-14:30 Ouestions & Comments
14:30-14:50 "Roles of water, sanitation and hygiene (WASH) and a health risk visualization approach"
Hidenori Harada (KU)
14:50-14:55 Ouestions & Comments
14:55-15:00 Closing remarks
■contact:jam.young.researchers@gmail.com