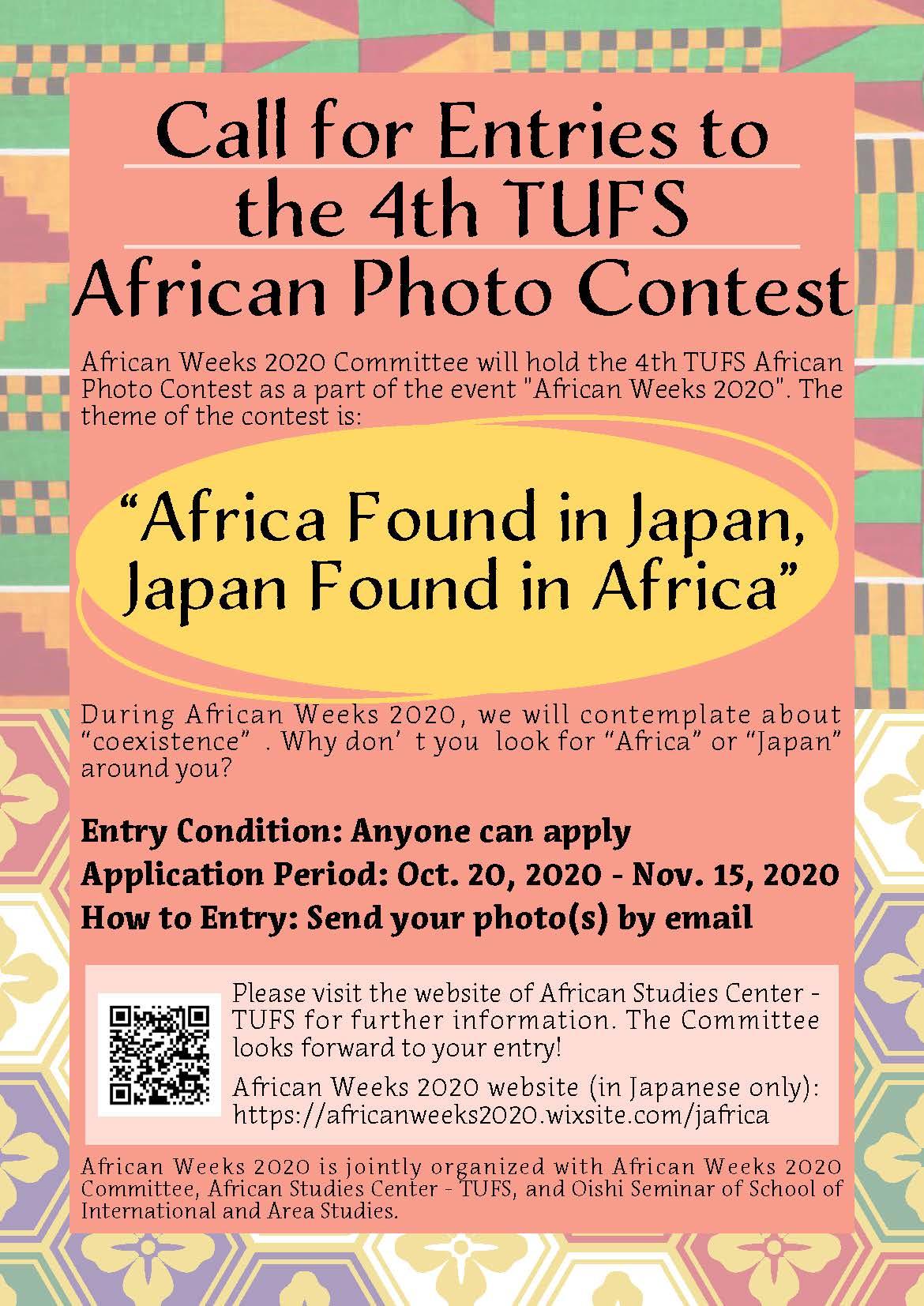 African Weeks 2020 Committee will hold the 4th TUFS African Photo Contest as a part of the event "African Weeks 2020". The Contest is jointly organized by African Studies Center and Oishi Seminar of School of International and Area Studies. TUFS African Photo Contest is the event to show photos related to Africa and share charms of Africa with people. Please share your photos with us and let us enjoy Africa from your point of view!
*11.17 update: The deadline for entry will be extended till Nov. 22, 2020.
◆Theme of the Contest: "Africa found in Japan, Japan found in Africa"
Photos that can make you feel a connection between Africa and Japan. No matter whether you have been to Africa (or Japan) or not, why don't you look for "Africa" or "Japan" around you and share it with us?
◆Entry Condition:
1. A photo which is related to Africa.
A photo taken in African countries or a photo taken in any other countries but have some kind of connection with Africa.
2. It should be the one taken by the applicant him/herself
3. If a photo is related to Africa, it doesn't matter when and where it was taken.
4. Each applicant can apply for the contest with three photos at most.
5. It would be better to send a photo with the original resolution. (Please do not reduce image size.)
◆Application Period: From October 20, 2020 to November 22, 2020
◆Applicant Eligibility: Regardless of affiliations, nationalities, or residences, anyone can apply.
◆Exhibition: Photos will be exhibited online. Details will be announced later. In case of too many applicants, adjudicators will select a certain number of photos out of all the photos.
◆Adjudicators: the committee members of African Weeks 2020, the members of African Studies Center - TUFS, and the members of Oishi Seminar.
◆How to entry:
Please send the following two materials to africanweeks2020.photo

gmail.com.
1. the data of a photo(s)
*The maximum size of the Gmail's attachment is 50 MB, so if it's more than 50 MB, please use file transfer service or other ways.
*The file format should be in jpeg.
*The file name should be "Your Name_(under score)Title of the photo". For example, "DavidSmith_SunsetinEthiopia".
2. an entry sheet (download from here.)
*Please send the word version after you paste your scanned signature on it or type your name on the signature line, or send the scanned copy (PDF) with your handwritten signature.
◆Announcement of prize-winning photos: November 30, 2020 (tentative) on the websites of African Weeks 2020, ASC, and African Studies Course of TUFS.
◆Contact: Ms. Tamai or Dr. Takanori Oishi (africanweeks2020.photo

gmail.com)