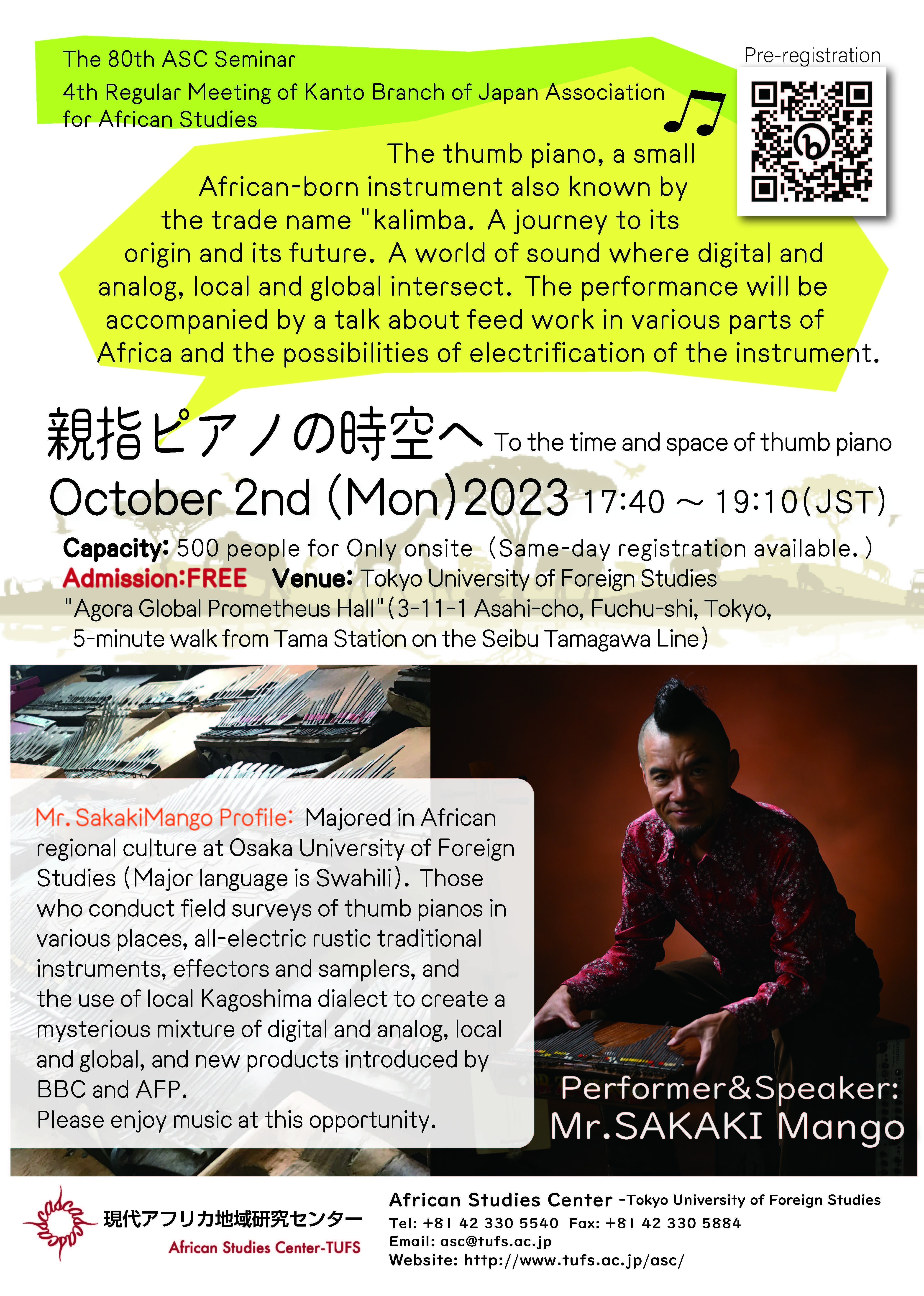 ◆Topic: To the time and space of thumb piano
◆Date: October 2nd Monday 17:40~19:10(6th period)

◆Venue: Tokyo University of Foreign Studies "Agora Global Prometheus Hall"(3-11-1 Asahi-cho, Fuchu-shi, Tokyo, 5-minute walk from Tama Station on the Seibu Tamagawa Line)
◆Admission:FREE
◆Capacity: 500 people for Only onsite
◆Pre-registration is required. Please visit here for registration by September 28, 2023.
Same-day registration available. Please share & come to join us!!
◆演奏・講演者/Performer&Speaker: The Thumb Pianist Mr.SAKAKI Mango(Mr.SAKAKI Mango HP)
◆Theme:The thumb piano, a small African-born instrument also known by the trade name "kalimba. A journey to its origin and its future.A world of sound where digital and analog, local and global intersect.The performance will be accompanied by a talk about feed work in various parts of Africa and the possibilities of electrification of the instrument.
Mr.SakakiMango Profile: Majored in African regional culture at Osaka University of Foreign Studies (major language is Swahili). Those who conduct field surveys of thumb pianos in various places, all-electric rustic traditional instruments, effectors and samplers, and the use of local Kagoshima dialect to create a mysterious mixture of digital and analog, local and global, and new products introduced by BBC and AFP. Please enjoy music at this opportunity.( His WebSite)
[Book] "Thumb Piano Dojo! - Killing Time with a Small African Instrument" (Yamaha Music Media), etc.
Produced 10 albums including the latest album "VINTAGE CRY BABY" (2019)
Los Angeles performance as a member of the band "Quattro Minimal" is scheduled in December this year2023.
◆Jointly organized by African Studies Center - TUFS and Kanto branch of Japan Association for African Studies
【Report】
The 80th ASC seminar was held in a face-to-face format and was attended by approximately 90 participants.
Based on fieldwork in Tanzania, Zimbabwe, and other African countries, the speakers explained and performed thumb pianos.
The speakers also discussed their own innovations and perspectives on the possibilities of the thumb piano instrument, and during the Q&A session, there was a discussion on the efforts to computerize thumb pianos.
The seminar was a success, with participants ranging from elementary school students to adults.