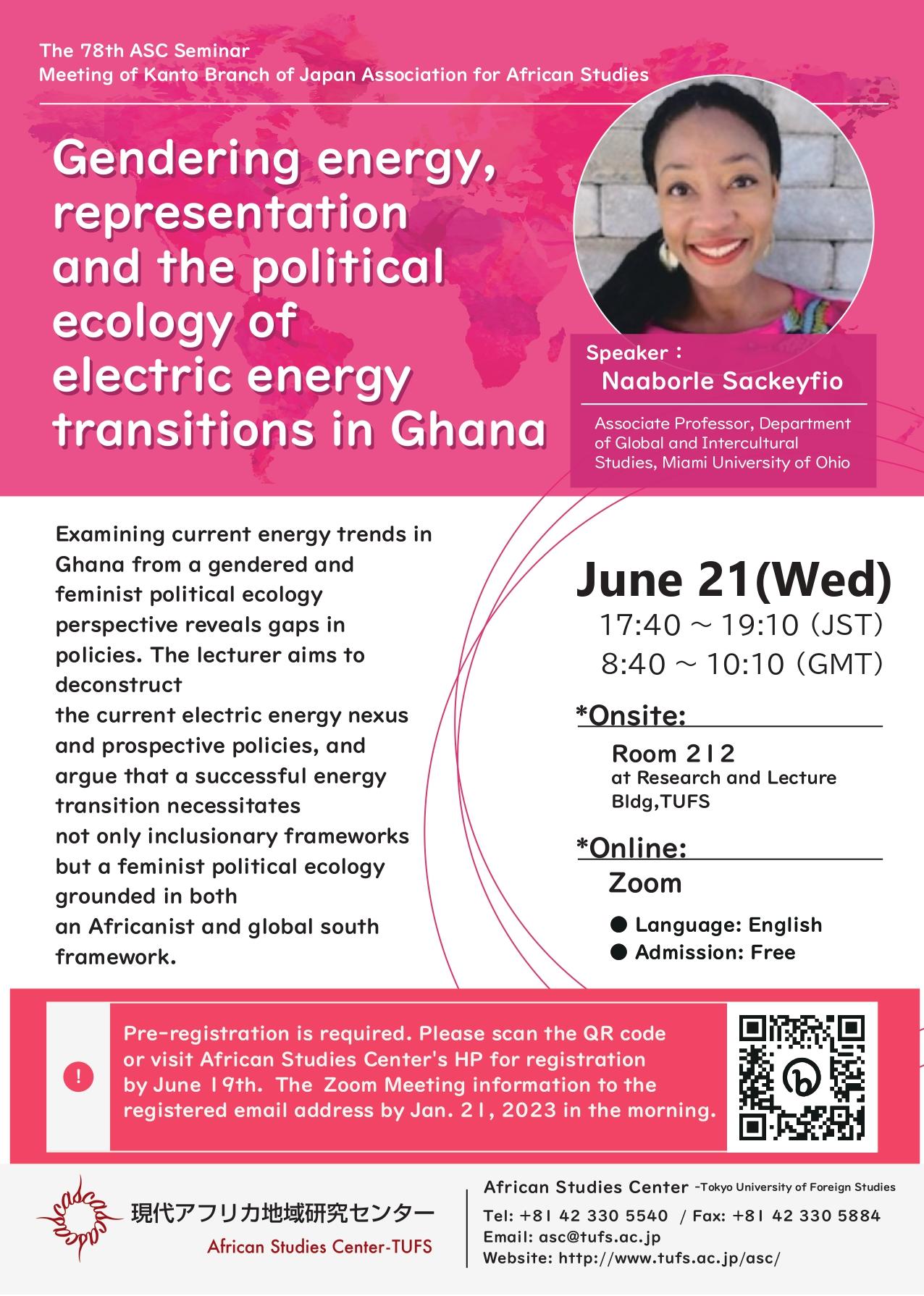 ◆Speaker: Prof. Naaborle Sackeyfio(Associate Professor, Department of Global and Intercultural Studies, Miami University of Ohio)
◆Title: Gendering energy, representation and the political ecology of electric energy transitions in Ghana
◆Abstract:
A purported geopolitical shift that forecasts the continent's growing clout beckons and with it an opportunity to examine shifting patterns of sustainable energy engagement. I examine current energy trends in Ghana, a state considered one of the fastest growing economies in West Africa, from a gendered and feminist political ecology perspective. I also engage with why gendering an energy transition matters. In an era where gender mainstreaming to empower and promote sustainable development looms large the instrumentalism of energy values, access and a larger matrix of energy governance illustrates enduring gaps in policies. Consequently, I aim to deconstruct the current electric energy nexus and prospective policies anchored towards energy access to argue that a successful energy transition in Ghana necessitates not only inclusionary frameworks in terms of representation but a feminist political ecology grounded in both an Africanist and global south framework.
◆Date & Time: June 21th 2023 (Wed) 17:40~19:10(JST) / 8:40~10:10(GMT)
◆Venue:
Onsite (Room212 at Research and Lecture Bldg., Tokyo University of Foreign Studies) & Online (Zoom Meeting)
◆Language: English
◆Admission: Free
Pre-registration is required. →Pre-registration Form 
Please scan the OR code or visit African Studies Center's HP for registration by June 19th.
The application will be closed as soon as the capacity reaches 30 for onsite and 300 for online.
We will send the Zoom Meeting information to the registered email address by Jan. 21, 2023 in the morning.
◆Jointly organized by African Studies Center - TUFS and Kanto branch of Japan Association for African Studies
【Report】
We held the 78th seminar in a hybrid style and 11 participated on-site while 28 participated online.
Prof. Naaborle Sackeyfio gave her presentation on 'Gendering energy, representation and the political ecology of electric energy transitions in Ghana'.
It seems that many students were interested in the new approach to gender and energy issues.
International students from Ghana and graduate students conducting research in Ghana asked questions enthusiastically.