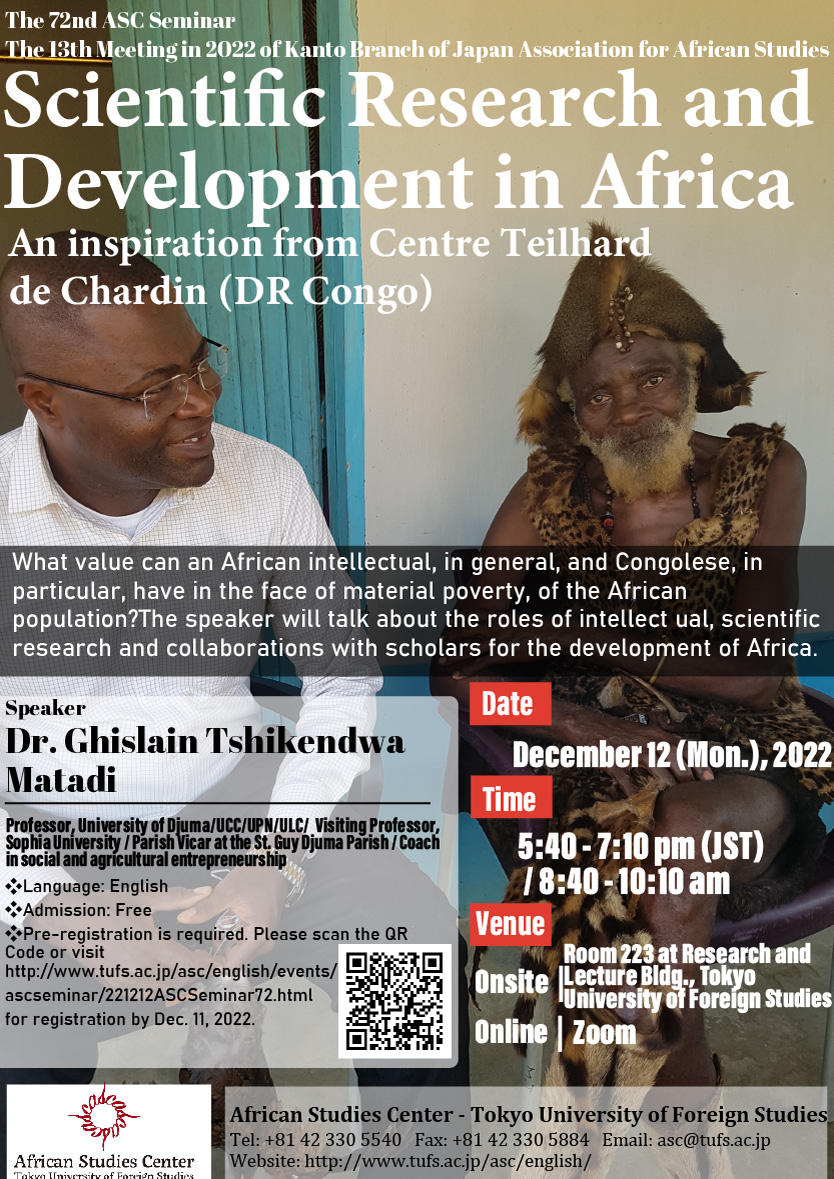 We will invite Dr. Ghislain Tshikendwa Matadi, a visiting professor of Sophia university who is staying in Japan as a speaker at the 72nd ASC Seminar.
◆Speaker: Dr. Ghislain Tshikendwa Matadi (Professor, University of Djuma/UCC/UPN/ULC/ Parish Vicar at the St. Guy Djuma Parish / Coach in social and agricultural entrepreneurship)
◆Title: Scientific Research and Development in Africa: An inspiration from Centre Teilhard de Chardin (DR Congo)
◆Abstract:
The theme of my reflection comes from my experience and the questions it raises in me. What value can an African intellectual, in general, and Congolese, in particular, have in the face of material poverty, of the African population? How can an intellectual explain the paradox between the potential in human, natural and mineral resources of the African continent in general and the poverty of so many Africans? Without being entirely responsible for the state in which his continent finds itself, the African intellectual should feel concerned in the search for ways and means of the emancipation of his people. And this work, he will only accomplish it if he makes contextualized scientific research his strength and his strategy and if he works sincerely in collaboration with other scholars. My conference is not only an attempt to show the importance, even the urgency of research on African soil, but also an opportunity to explore, from the Center Teilhard de Chardin(※)possible strategies for conducting research-actions.
※The Center Teilhard de Chardin (CETEC) is a research center in Djuma created in 2016 by the presenter to promote scientific research in the field of anthropology and sociology, the environment and any discipline that may contribute to the sustainable and equitable development of the DR Congo and Africa.
◆Date & Time: Monday, December 12, 2022 5:40 - 7:10 pm (JST) / 8:40 - 10:10 (GMT)
◆Venue: Onsite (Room 223 at Research and Lecture Bldg., Tokyo University of Foreign Studies) & Online (Zoom Meeting)
◆Language: English
◆Admission: Free
◆Pre-registration is required. Please visit here for registration by December 11, 2022. The application will be closed as soon as the capacity reaches 30 for onsite and 300 for online. We will send the Zoom Meeting information to the registered email address on Dec. 12, 2022 in the morning.
◆Jointly Organized by African Studies Center - TUFS and Kanto branch of Japan Association for African Studies
【Report】
We held the seminar in a hybrid style and 13 participated on-site while 18 participated online.
After the presentation on the role of intellectuals in the development of the rural area in DRC, the floor discussed the actual difficulty in the practices.