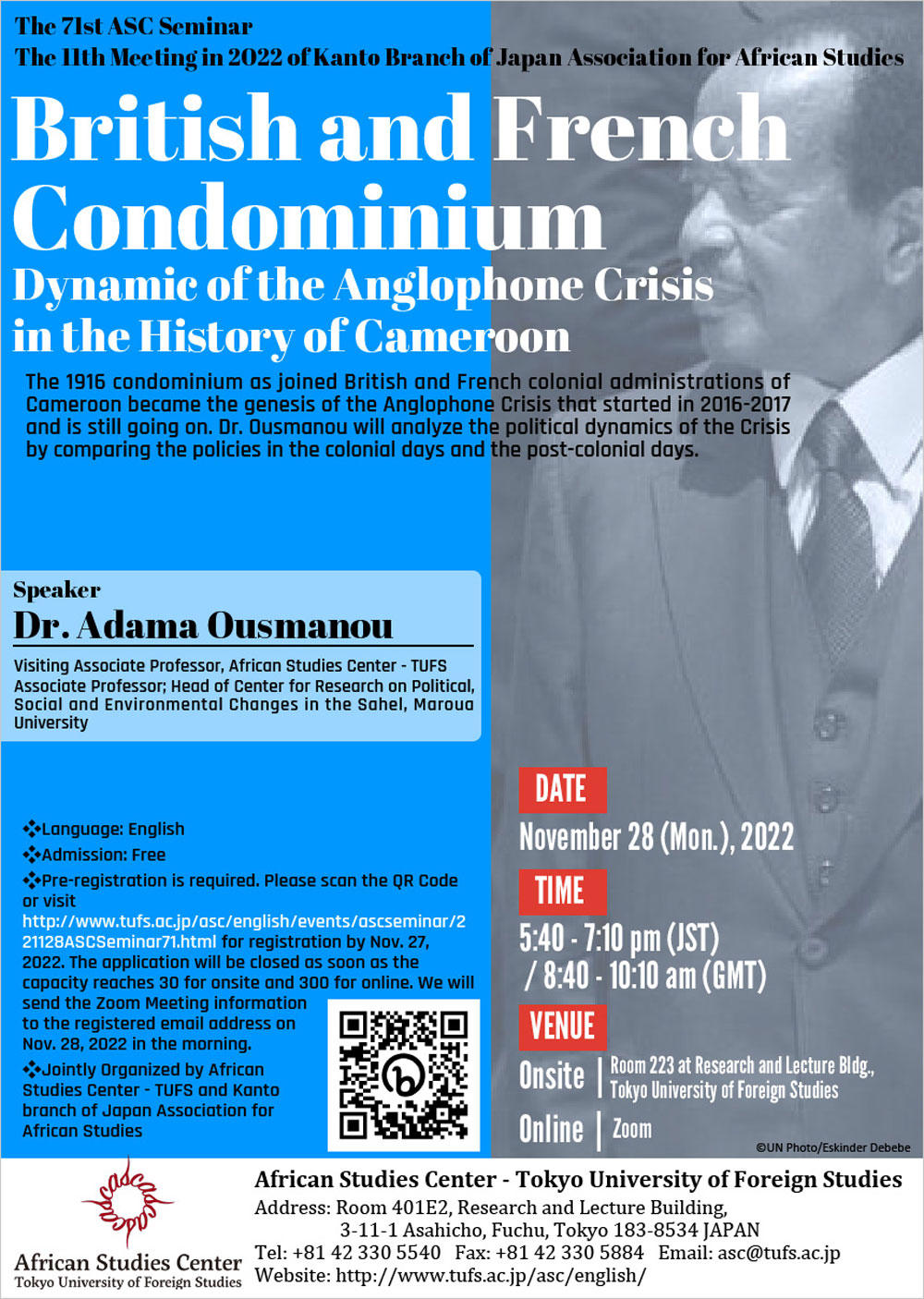 We will invite Dr. Adama Ousmanou, one of our visiting professors who will stay in Japan until early February 2023, as a speaker at the 71st ASC Seminar.
The 1916 condominium as joined British and French colonial administrations of Cameroon became the genesis of the Anglophone Crisis that started in 2016-2017 and is still going on. Dr. Ousmanou will analyze the political dynamics of the Crisis by comparing the policies in the colonial days and the post-colonial days.
◆Speaker: Dr. Adama Ousmanou (Visiting Associate Professor, African Studies Center - TUFS / Associate Professor; Head of Center for Research on Political, Social and Environmental Changes in the Sahel, Maroua University)
◆Title: British and French Condominium: Dynamic of the Anglophone Crisis in the History of Cameroon
◆Abstract:
The joined British and French colonial administration on Cameroonian territory in 1916, led to postcolonial unachieved source of marginalization, political claims, integration and unpredicted ethno-regional, linguistic and religious struggle for emergence and social promotion in Cameroon. The condominium as a shared administration in an ethnically, religiously and regionally diverse nation like Cameroon plant the seeds of session attempt Cameroon is facing today conceptually portrayed as Anglophone crisis. The purpose of the present study is to analyze the political dynamic of the northwest and southwest insurgency against Biya regime by apprehending through comparative approach the Lugard policy of divide and rule, the Ahidjo policy of ethno-regional and religious monolithism to present days violence escalation. The nowadays Anglophone crisis had been nurtured by a competitive, hegemonic and nepotistic management, at times, of heritage or identities - identities regarding the Anglo-French colonial legacy in Cameroon.
◆Date & Time: Monday, November 28, 2022 5:40 - 7:10 pm (JST) / 8:40 - 10:10 (GMT)
◆Venue: Onsite (Room 223 at Research and Lecture Bldg., Tokyo University of Foreign Studies) & Online (Zoom Meeting)
◆Language: English
◆Admission: Free
◆Pre-registration is required. Please visit here for registration by November 27, 2022. The application will be closed as soon as the capacity reaches 30 for onsite and 300 for online. We will send the Zoom Meeting information to the registered email address on Nov. 28, 2022 in the morning.
◆Jointly Organized by African Studies Center - TUFS and Kanto branch of Japan Association for African Studies
【Report】
We held the seminar in a hybrid style and 12 participated on-site while 50 participated online.
After the presentation on the historical background about the anglophone crisis in Cameroun, the floor discussed enthusiastically about the topic.