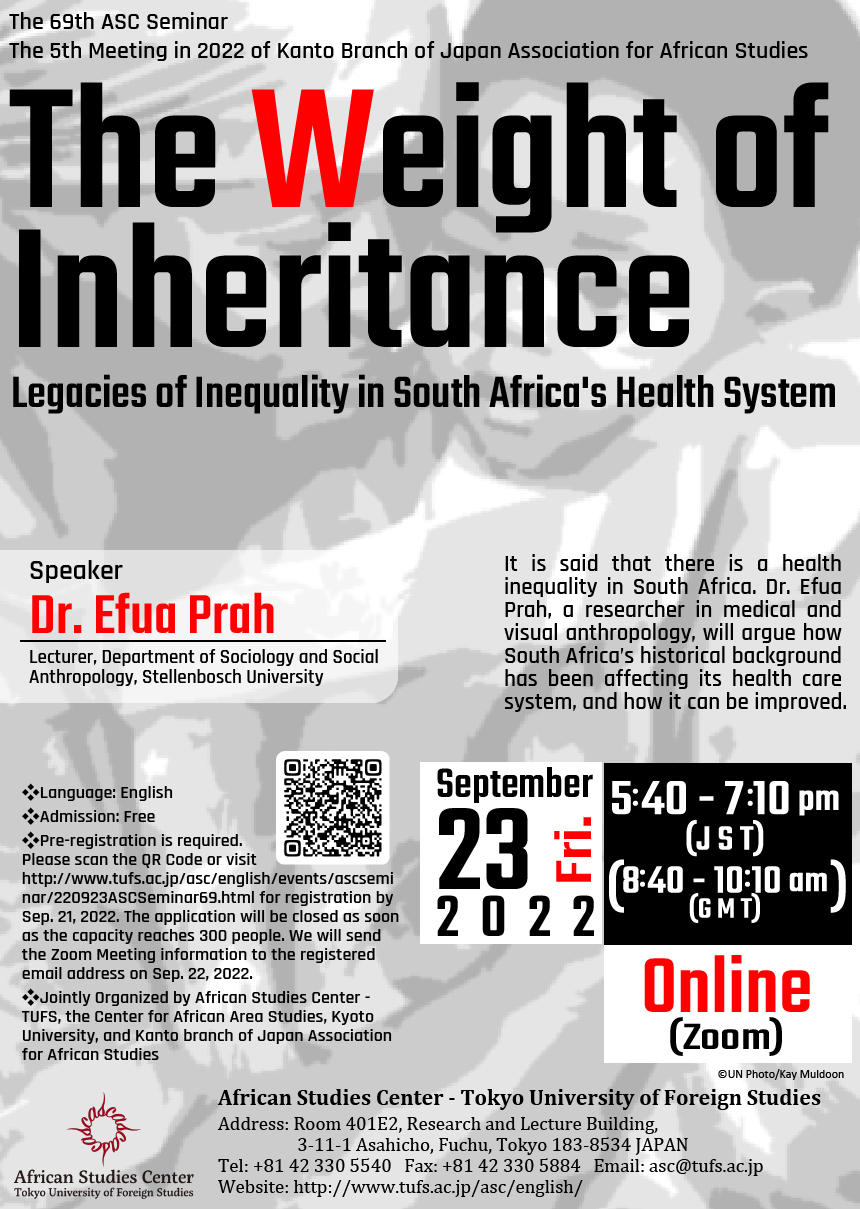 African Studies Center - TUFS (ASC-TUFS) will host the 69th ASC Seminar in collaboration with Kanto branch of Japan Association for African Studies.
It is said that there is a health inequality in South Africa. Dr. Efua Prah, a researcher in medical and visual anthropology, will argue how
South Africa's historical background has been affecting its health care system, and how it can be improved.
◆Speaker: Dr. Efua Prah (Lecturer, Department of Sociology and Social Anthropology, Stellenbosch University)
◆Title: The Weight of Inheritance: Legacies of Inequality in South Africa's Health System
◆Abstract: The main thesis presented in this paper explores the possible historical continuities of inequality and porous access to health care for those population groups who were previously enslaved. Through archival research, these apparitions of South Africa's past, experience an afterlife, made apparent through unequal access to proper health care. The broader project seeks to account for how current health challenges are divided disproportionally along racial, income-level and geographic realities. The interlocked nature of historic violence and race-based discriminations in the practice of medicine, will account for why critical omissions in basic care persist. Presently, there is no synthesized compilation of work that sets out to account for the kinds of intersections mentioned above. These intersections are important to recognize especially if any meaningful social transformation is intended.
◆Date & Time: Friday, September 23, 2022 5:40 - 7:10 pm (JST) / 8:40 - 10:10 (GMT)
◆Venue: Online (Zoom Meeting)
◆Language: English
◆Admission: Free
◆Pre-registration is required. Please visit here for registration by September 21, 2022. The application will be closed as soon as the capacity reaches 300. We will send the Zoom Meeting information to the registered email address on September 22, 2022.
◆Jointly Organized by African Studies Center - TUFS and Kanto branch of Japan Association for African Studies