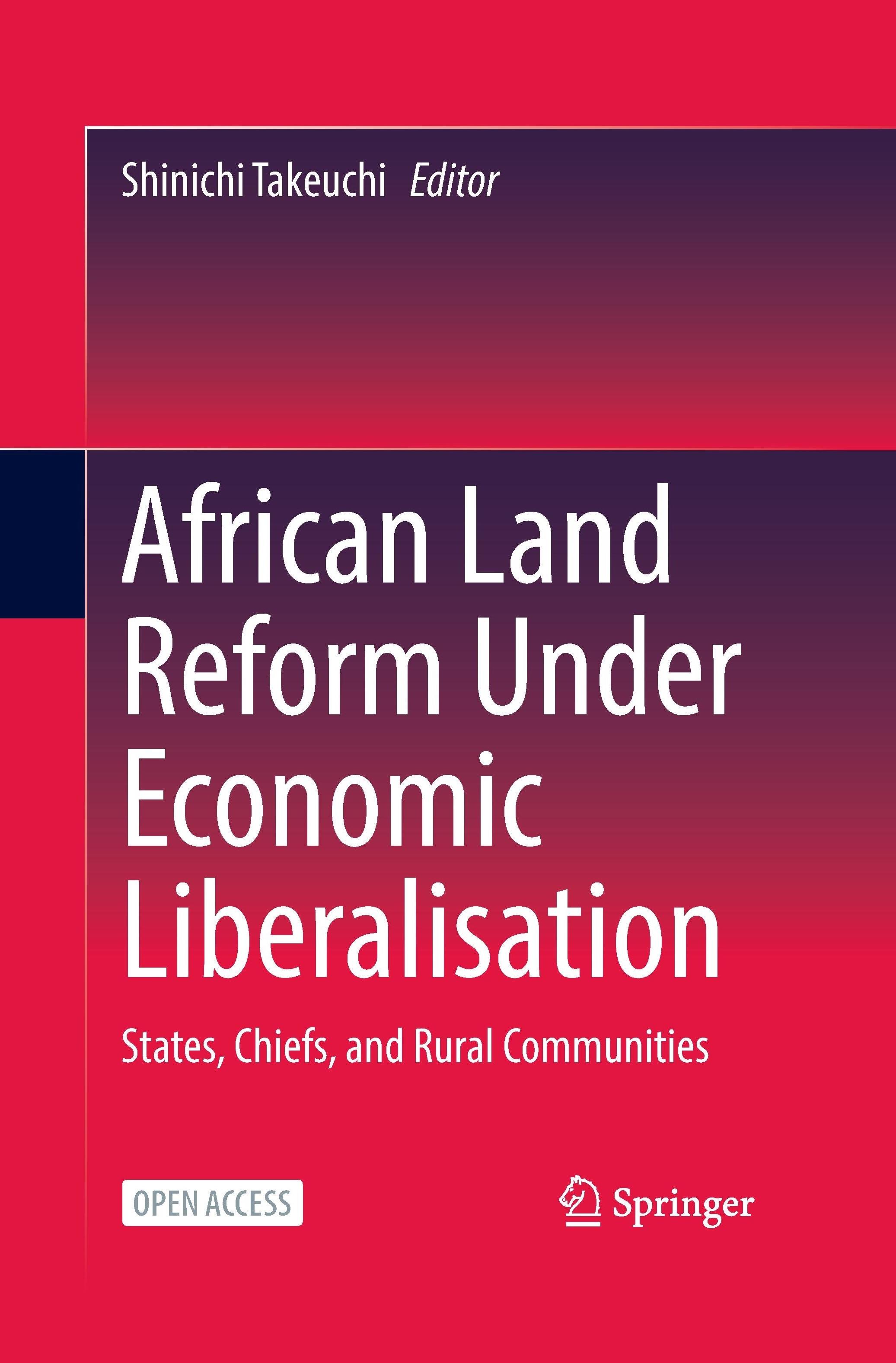 ◆Editor: Shinichi Takeuchi
◆Book Title: African Land Reform Under Economic Liberalisation: States, Chiefs, and Rural Communities(Springer, xviii+203 pp.)
◆Published on October 11, 2021 (eBook)
◆Introduction: This open access book offers unique in-depth, comprehensive, and comparative analyses of the motivations, context, and outcomes of recent land reforms in Africa. Whereas a considerable number of land reforms have been carried out by African governments since the 1990s, no systematic analysis on their meaning has so far been conducted. In the age of land reform, Africa has seen drastic rural changes. Analysing the relationship between those reforms and change, the chapters in this book reveal not only their socio-economic outcomes, such as accelerated marketisation of land, but also their political outcomes, which have often been contrasting. Countries such as Rwanda and Mozambique have utilised land reform to strengthen state control over land, but other countries, such as Ghana and Zambia, have seen the rise in power of traditional chiefs in managing the land. The comparative perspective of this book clarifies new features of African social changes, which are carefully investigated by area experts. Providing new perspectives on recent land reform, this book will have a considerable impact on scholars as well as policymakers.
◆Contents:
Introduction: Drastic Rural Changes in the Age of Land Reform
Shinichi Takeuchi
Land Administration, Chiefs, and Governance in Ghana
Kojo S. Amanor
'We Owned the Land Before the State Was Established': The State, Traditional Authorities, and Land Policy in Africa
Horman Chitonge
Renewed Patronage and Strengthened Authority of Chiefs Under the Scarcity of Customary Land in Zambia
Shuichi Oyama
Land Tenure Reform in Three Former Settler Colonies in Southern Africa
Chizuko Sato
Politics of Land Resource Management in Mozambique
Akiyo Aminaka
Land Law Reform and Complex State-Building Process in Rwanda
Shinichi Takeuchi and Jean Marara
Post-cold War Ethiopian Land Policy and State Power in Land Commercialisation
Teshome Emana Soboka
Traversing State, Agribusinesses, and Farmers' Land Discourse in Kenyan Commercial Intensive Agriculture
Peter Narh
*This book is an open access book (License type: CC BY) which you can access and download free of charge for any use, whether commercial or non-commercial.
◆ISBN: 978-981-16-4724-6 (Hardcover), 978-981-16-4727-7 (Softcover), 978-981-16-4725-3 (eBook)