The 7th CAAS Symposium (October 2016)
From October 22 to 23, 2016, Tokyo University of Foreign Studies hosted the 7th international symposium organized by "The Consortium for Asian and African Studies (CAAS)." CAAS is comprised of seven institutions including TUFS, which are world-leading institutions for research and education of Asian and African studies.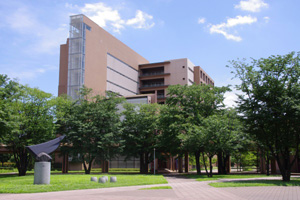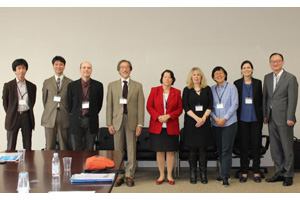 The symposium was held following the 6th symposium hosted by Hankuk University of Foreign Studies of Korea. Each institution of CAAS is obliged to host an annual symposium in turn.
During the symposium, 35 researchers from CAAS institutions (INALCO, SOAS, Columbia University, Leiden University, NUS, HUFS and TUFS) made presentations on their research, based on the theme of "Crossing the Boundaries: Asians and Africans on the Move". From TUFS, seven senior researchers and seven young researchers participated and they gained valuable experience by meeting top-level researchers from all over the world.
Date:October 22 to 23, 2016
Place:Tokyo University of Foreign Studies
Program PDF is here.
TUFS presentation speakers

1. Iris Haukamp (SOAS/TUFS)
Films on the move: Japanese films and cultural boundaries in the interwar period
2. Lin Wei (TUFS Graduate student)
Diversity Promotion Effort of Museum Professionals in the United Kingdom
3. Keiko Mochizuki (TUFS)
Exploring Effective Chinese/Japanese/English Pedagogy for Crossing Language Boundaries: Based on TUFS International Multilingual Learner Error Corpora
4.Agata Kulikow (TUFS Graduate student)
Aspectual Compound Verbs in Japanese: From the Perspective of Aspectual Prefixes in Polish
5.Choi Jeonghee (TUFS Graduate student)
Comparative Studies on Compound Verbs in Japanese and Korean
6. Nobuaki Kondo (TUFS-ILCAA)
Making a Persianate Society: Literati Migration to Mughal India
7. Sho Sakuma and Teppei Nagai (TUFS Graduate student)
Quantitative Analysis on Migration and Development in South Asia
8.Denka Yanagi (TUFS Graduate student)
The Partnership Dilemma between Japanese Government and NGOs in International Development―Through "Grant Assistance For Japanese NGO Projects" implemented by the Ministry of Foreign Affairs of Japan―
9. Christopher Gerteis (SOAS/TUFS)
The Nexus of Gender Class and Generation in Postwar Japan
10.Akimitsu Ikeda (TUFS-ILCAA)
Around Boundaries: Everyday Interaction in a Lebanese Town
11.K. A. Sandunika Hasangani (TUFS Graduate student)
Blurred Boundaries of Ethnicity: The Case of Muslims in Sri Lanka
12.Keiko Iwamoto (TUFS-JSPS)
Tax Revenue and Troublesome Nomads: A Study of the Settlement Policy on Turkish and Kurdish Nomads by the Ottoman Empire
13. Jin Noda(TUFS-ILCAA)
The Conflicts beyond the Border and their Resolution between Russia and the Qing China
14.Ethan Mark (Leiden/SOAS)
Anti-Colonial Fascism: Japan, Asianism, and the Making of the Indonesian Army