Emergency Drill Held at TUFS
February 22, 2018
On Monday the 4 th of December, TUFS conducted the annual campus-wide emergency drill for students and all teachers. During this emergency drill, the ShakeOut* earthquake drill and safety confirmation transmission were practiced. Also, TUFS set up a disaster countermeasure headquarters, and confirmed the roles of each group of the disaster countermeasure task force.

As the start of the emergency drill was announced, the disaster countermeasure task force members gathered at the headquarters, including President Hirotaka Tateishi as chief. Under President Tateishi's instructions, drills were held for the initial response and status report for each of the groups (general affairs groups, facility group, evacuation guidance group, and rescue/sanitation group).

Here at TUFS we have created a "TUFS Earthquake Response Manual" (finalized on September 13 th , 2016), and we regularly carry out drills to simulate responses to large-scale disasters according to this manual.

*The Shakeout earthquake drill is an earthquake drill that originated in the United States in 2008, and has recently been receiving attention in Japan as well. The drill, which is held in workplaces, schools, and the outdoors, is conducted for one minute, and the stages of the drill are, "drop, cover, and hold on."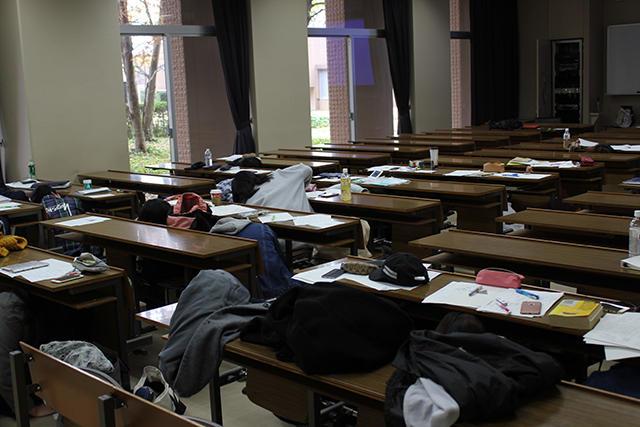 | | |
| --- | --- |
| | |