President Tateishi Attends Japan-Mexico Rectors' Summit
February 8, 2018
On Thursday the 30 th November and Friday the 1 st of December, TUFS delegation including President Hirotaka Tateishi and Executive Director/Vice President (for Personnel Affairs, Research and Institutional Cooperation) Minoru Iwasaki attended the 3 rd Japan-Mexico Rectors' Summit held in Hiroshima.
At the summit there were a total of 150 attendees from 30 participating universities and institutions in Japan, and 39 participating universities and institutions in Mexico. Attendees held a discussion which focused on the topic of 'Collaboration for Innovation; Academy, Industry and Government working together.'
President Tateishi gave a general summary of the summit alongside the Ambassador of Mexico to Japan, Mr. Carlos Almada. Together they brought the summit to a close with discussion of both countries nurturing global human resources through their higher education institutions so those capable can cooperate to solve global issues, and the importance of the creation of innovations that use the 'wisdom of the Humanities and Social Sciences' as their cornerstones.
Coinciding with this summit, TUFS renewed the Agreement for Academic Exchange and Cooperation with TUFS partner institution and next host of the Japan-Mexico Rectors' Summit, the National Autonomous University of Mexico (UNAM). UNAM and TUFS concluded a cooperation agreement in 2012, and have been continuing education and research-related exchanges ever since. In particular, since being chosen to participate in the Ministry of Education, Culture, Sports, Science and Technology of Japan's 2015 Inter-University Exchange Project (Central and South America), TUFS and UNAM have deepened their student exchange relations even further.
'A Co-Creative Education Program of Humanities and Sciences to Solve Global Issues Confronting Japan and Latin America (La-CEP)' http://en.musashino-la.jp/outline
It is expected that this summit helped contribute to deepening relations and expanding exchange opportunities between Japan and Mexico, and TUFS and Mexico.
| | |
| --- | --- |
| | |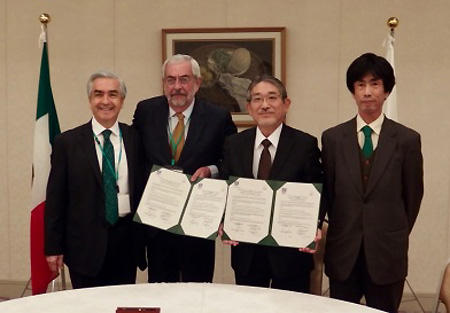 From left: Ambassador of Mexico to Japan, Mr. Carlos Almada; UNAM Rector, Dr. Enrique Graue; President Tateishi; Professor Hagio (President's Task Force)