Autumn Commencement Ceremony Held
September 25, 2017
On Monday 25 th the Autumn Commencement Ceremony took place at Sakura Hall, the Japanese Language Center for International Students. A total of 55 students, including 28 undergraduates (7 students of the Faculty of Foreign Studies, 14 students of the School of Language and Culture Studies, 7 students of the School of International and Area Studies), 15 master's course students (including eight Peace Building and Conflict Prevention course students) and 12 doctoral course students graduated from TUFS.
TUFS graduation address
| | |
| --- | --- |
| Receiving their diplomas | Graduates of the Peace and Conflict Studies(PCS)Course |
TUFS graduation address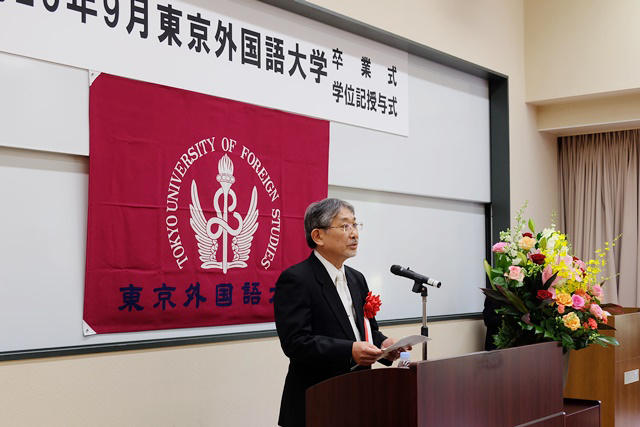 September 25, 2017
President Hirotaka TATEISHI

As president of the Tokyo University of Foreign Studies, I would like to extend my heartfelt congratulations to all of you here today, both Japanese and exchange students, who are graduating or have completed their course of study. Many of you will be leaving for new careers around the world, while others of you have chosen to continue on with further study. I wish you well as you embark on new adventures in your lives, and would like to say a few words before you go.

I believe you are all familiar with the term SDGs. These are the Sustainable Development Goals, 17 goals and 169 targets, adopted by the United Nations General Assembly in 2015 in a Resolution titled,"Transforming our world: the 2030 Agenda for Sustainable Development." The first goal is to "end poverty in all its forms everywhere," and the third goal is to "ensure healthy lives and promote well-being for all at all ages."

It is said the world is becoming a global society in the 21st century.
Globalization is accelerating the flow of people, things, and information, and fostering integration on a worldwide scale. But at the same time this integration is threatening to weaken traditional local economies by removing the safety valves maintained by regional societies and causing extreme social and economic gaps everywhere. This is why the United Nations has adopted an agenda to eradicate poverty, deal with climate change, and build a peaceful and inclusive society by the year 2030. The UN is urging all governments and peoples to work toward achieving the 17 goals.

As you know, our university strives to foster the development of people who will play active roles in the global society of the 21st century. I believe we have helped you to hone your skills in the global language of English, as well as in the regional languages of your special areas of study. By now you should have the multi-lingual skills that are necessary for understanding and coexisting with people of other cultures. You will soon be going out into the world to undertake various tasks. I strongly hope that you will think always of the 17 Sustainable Development Goals, and stand firm in your resolve to become truly global citizens working to resolve the negative aspects of globalization.

Did you know, by the way, that this year of 2017 is the International Year of Sustainable Tourism for Development? This is a global campaign undertaken by the United Nations World Tourism Organization, the UNWTO,and is based on the premise that tourism can contribute greatly to achieving sustainable development goals. At the event to launch the campaign, which took place in Madrid, Spain, on January 18, UN Secretary-General Guterres said, "Tourism has become a pillar of economies, a passport to prosperity, and a transformative force for improving millions of lives. The world can and must harness the power of tourism as we strive to carry out the 2030 Agenda for Sustainable Development."

Unfortunately, on August 17, a terrorist incident targeting tourists took the lives of 15 people and harmed another 133. This occurred right in Barcelona, one of Spain's most popular tourist destinations and location of the UNWTO headquarters. The terrorists drove a van into the tourists enjoying the attractions of the famed La Rambla pedestrian mall.
The perpetuators are said to have been influenced by the radical Is, the Islam State. There is still a need to examine the background of the ideologies and actions of the group of young people who carried out this terrible act. Words of condolences for the victims poured in from around the world, and on August 26, more than 500,000 citizens held a rally in Barcelona, chanting the Catalan phrase, "No tinc por," which means, "We are not afraid."

Globalization appears to be distorting our world and threating our safety and security. But we must be strong, we must not be afraid, and we must never forget. And I will repeat myself here: It is our task as global citizens to work for the Sustainable Development Goals so as to correct the distortions that lead to this kind of tragedy. When the UNWTO declared 1967 as the International Tourist Year, it promoted the slogan, "Tourism, Passport to Peace." Tourism is part of the accelerating global flow of people, things, and information, and can play an important role in encouraging intercultural exchange and understanding and removing the barriers of ignorance and prejudice. It is my hope that you will take off to all corners of the world with your own personal "passport to peace."

Finally, I have one request to make of you all. Please join in the activities of the Tokyo Gaigokai東京外語会, our alumni association. This association works closely with the university to enhance our standing in the academic community and society at large. This is a critical time for national universities and your strong support is needed. Please join those who graduated before you in becoming stakeholders in our endeavors to further develop the Tokyo University of Foreign Studies.

Again, congratulations, and my best wishes for your future endeavors.
Thank you.